Southeast Volusia Habitat for Humanity  has received the  Malachi 3:10 award for  its tithe to countries in crisis. In 2020, this small affiliate reached a tithe of over $500,000, donated to several countries over the years, including Northern Argentina, Guatemala, Ethiopia and Kenya.
Members of staff and board met in the Habitat dorm house on February 26th, 2021, to celebrate and receive the award, presented virtually by Habitat CEO Jonathan Reckford. Also present on the live-stream  from Habitat International in Atlanta were the Tithe & Global Engagement team, who announced the names of  a total of 16 affiliates in the US who achieved this award.
We are proud to be one of the organizations to pass the lifetime tithe milestone, and will continue to work towards our goal to eliminate poverty and substandard housing in our community and also around the world.
Left: Rosemary Walker, retired Executive Director, accepts the trophy with Regis Sloan, President.
Right: Rosemary Walker cuts the celebratory cake with help from Kaye Walker, Habitat board member, and also, Mark Billings, Executive Director.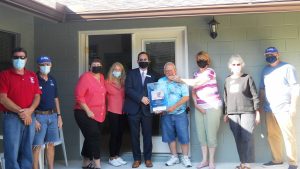 Members of staff and board gather in the sunshine to enjoy the celebration. Mark Billings, ED, center, holds the award with volunteer Ralph Bower.
Top: Featured image is of a Habitat build in Kenya.