On Saturday, 24th July, 2021, the Knights of Columbus returned to build with us, after a long wait over the last year, due to Covid.
The Knights visit regularly, with a team of wonderful members who love to work in construction.
We are so glad to see them back.
They worked on the new house at 200 Howard street in the company of Janelle Figueroa, future home owner, and several volunteers.
Dave Dollieslager coordinated the team, and has been building with SEV Habitat  for a number of years.
Knights with Janelle, center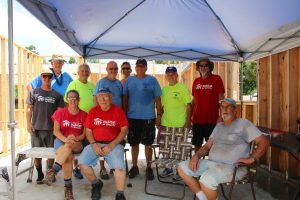 Knights joined by Habitat staff and volunteers.