On the evening of June 16th, 2022, the Spivey family achieved their dream of home ownership, and celebrated their Home Dedication with a large group of their friends and family, joined with Habitat volunteers, staff , board , and other members of the community.
Jackie and David Spivey worked hard to complete their sweat equity and home education program, and Dave was regularly seen helping at the Re Store and construction site, even after his hours were finished. Jackie's Mother, Gail Evans, will also share the home.
Mark Billings, ED, presided, with a welcoming from Board Chair, Regis Sloan, and prayers and home blessing by Rev. Neal Coates SR.
A special thanks to our generous donors , Coleman Plumbing, Servair, Snyder & Square D Electric, and the Garden Club, for helping complete this beautiful home.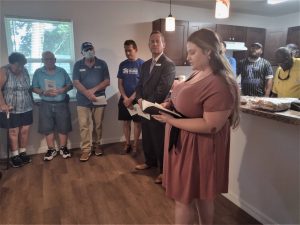 Brittany Rider, Family Svces Coordinator, presents the bible to the family.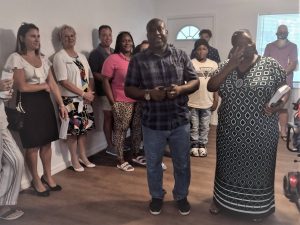 Gail and David give thanks to all who helped build their home.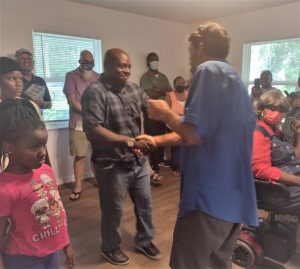 Ray Allnutt,Construction Mgr, hands the house keys to David.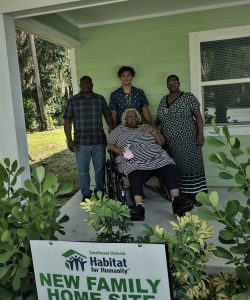 We wish the family a long and happy life in this, SEV Habitat's 146th home.
C.G.