The Board of Realtors brought two teams to work with SEV Habitat on 2nd and 4th June, 2021. Travis Ford once again coordinated the event.
This was the first group build since Covid, and we are so happy to have these strong, able volunteers  put in two mornings of hard work,  building 530 Live Oak Street, our first four -plex.
The future home owners who will soon be living in these 4 homes were able to join them ,bringing refreshments and a great atmosphere on these two hot, humid days. So much work got done, and the building is really starting to take shape and look like home!
Fri. group  with future home owners                           Wed. group with Travis Ford, back row center.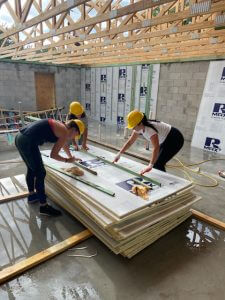 Building interior walls.
Thank you Board of Realtors for your continued support of SEV Habitat builds. We hope you will join us again soon.
C.G.