A GREAT WAY TO WELCOME IN THE NEW YEAR- THE DEDICATION OF OUR FIRST FOUR-PLEX OF  1 & 2 BDRM HOMES.
On Wednesday 5th January, 2022, Denitra Jackson and her son Jamier, Carol La Rue, Devon Haedrich and Nadia and her mother Tracey, became the recipients of four homes built in townhouse style.
A large crowd of friends and family, Habitat staff, volunteers and board came out to enjoy the festivities held in front of the homes on the most gorgeous evening.
Six staff, volunteers and board members were also honored for long time service with plaques on the walls of each home . The building was named the Bill Maul &  Kaye Walker building in honor of two volunteers who presently serve on the board, and have been with SEV Habitat from the early days. Bill was our first President. It was a fitting way to celebrate the success of this building and for the home owners who had worked so very hard to achieve home ownership.
–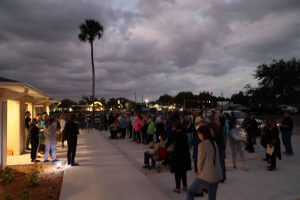 A crowd gathers for the dedication of homes 121-124 built by SEV Habitat.
Carol LaRue receives her keys from Ray Allnutt,                            Nadia receives her keys as her Mother, Tracey, looks on.
Construction Manager
Denitra Jackson receives her bible from                                                      Devon Haedrich receives her bible.
Brittany Rider, Family Services Coordinator.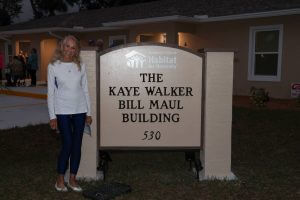 Kaye Walker, Board Member and long time volunteer, is thrilled to see the building is named in her honor.
by C.G