On the beautiful evening of 5th July, three more families received their keys to a new home and a new life in Pinehurst subdivision, Edgewater.
A great crowd of friends and family, & Habitat staff and volunteers, gathered in the living room of the Rahming family to celebrate home ownership through Habitat.
The three families  moving into new homes on Pine Brook Drive are Rhiannon Bowen and her children Tanner, 8 and Arionnah 9; Elvira Rahming and her 4 children, Andreas, Amiracle, Arianna and Brianna; also, Donna and Dennis  Boudreau , and daughter Amber.
Bob Bernhard, President of the Board of Directors, opened the service of dedication, and Bishop R.L. Hillery of the Victory Temple of God, presided in the prayers and blessings of the homes. Ray Allnutt, Construction Manager,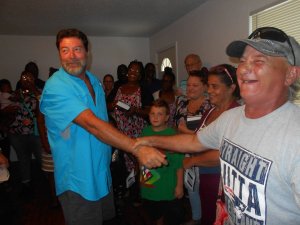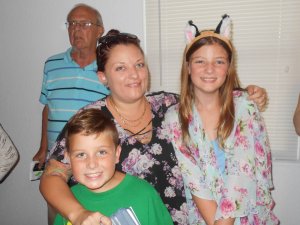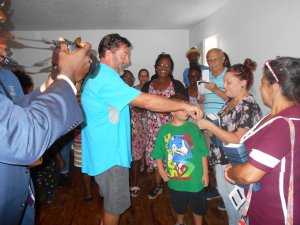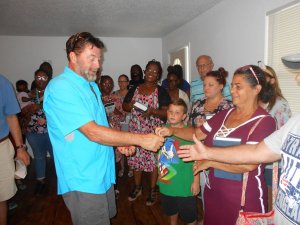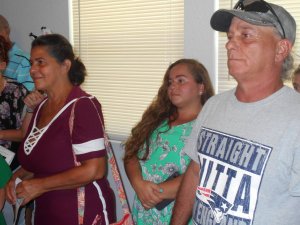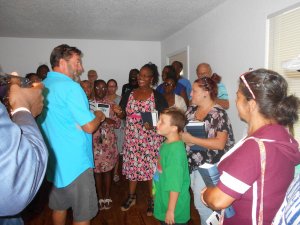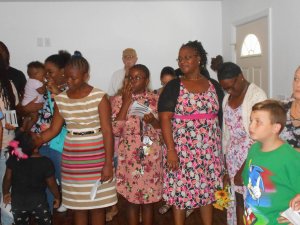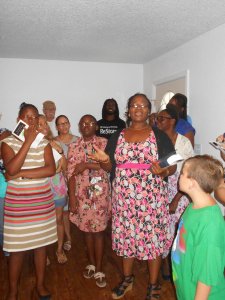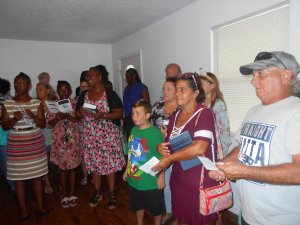 presented the keys , and board member Bill Maul gave each family their bibles. After the dedication, everyone toured the three homes, and enjoyed refreshments in each.
Thank you to our generous donors, Norwood's restaurant, who sponsored # 15 & 18 Pine Brook, and McDonald's who sponsored #14. Also thanks to Beck's nursery of Port orange for their donations plants and shrubs.
These homes were built by the loving, hard working hands of many Habitat volunteers.  Our gratitude to all of them at construction, in the Re-Store, and on the board , can be expressed best in these moments of joy as the families receive their homes.
Coralie.