On Saturday 9th November,  a wonderful team of volunteers joined us to  help get the duplex at 327 Sheldon Street completed . This group came from the staff and faculty of NSB High School, including staff from the program from which the future home owner Antavis Ray graduated .
Thank you for so much hard work on your day off, NSBHS . It is much appreciated, especially by Antavis!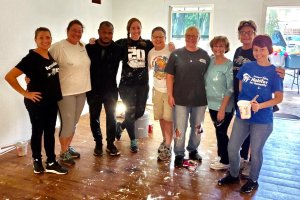 Pic: On far right, future home owner Anna Loudermilk. Center, Jennifer Stach, Assistant Principal, with future home owner of 327 Sheldon, Antavis Ray,  third from left.
C.G.