On June 5 and 7, members of the New Smyrna Beach Board of Realtors once again volunteered to build with Habitat. These wonderful men and women helped build 134, 132, and 128 Canal Road, soon to be the homes of the Crum, Milam and Lamela families. Despite the oppressive heat, the groups worked very hard and accomplished a lot towards getting the homes finished, with the assistance of Bird and Ray and volunteer instructors Tom Draus and Bob Perry.
We thank everyone for coming, especially Travis Ford, who is so supportive of our affiliate, and who organizes the event each time, enlisting a large group of enthusiastic realtors.
Please come back soon!
Iesha Crum and Anna Loudermilk, future Habitat homeowners join the group on Wed. 7 June (pic 1)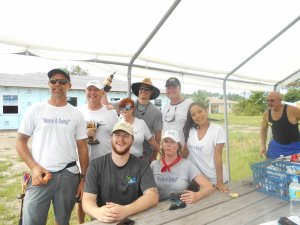 C.G.