Volunteer Positions
Habitat for Humanity is a Volunteer-Driven Organization
Feature Box Title
Southeast Volusia Habitat For Humanity offers volunteer opportunities for you to help with all aspects of home building. We have both construction and non-construction volunteer opportunities available to you. You do not need to be an expert in construction to help out on a work site. There are many tasks that require only a willingness to learn and work with others. On-site construction work is the most popular of Habitat's volunteer opportunities. We make every effort to incorporate all willing volunteers regardless of skill level. All volunteers on the construction site must be at least 16 years of age or older. We will work rain or shine!
Feature Box Title
Volunteers work on our construction site each Tuesday, Thursday and Saturday from 8-12. During certain times of the year we also work on Wednesday and Friday. Individuals over age 16 are welcome to come directly to the job site to volunteer. You do not need to bring any tools, only a willing attitude and close toed shoes! If you have a favorite tool belt or hammer, feel free to bring those, but do not bring your own power tools to the site!
In order to obtain the location of construction, call our volunteer hotline, 386-428-5010, option 7 and you will receive address, directions and the times of planned construction!
Feature Box Title
We hold an in-person orientation when you come in to volunteer the first time. If you have a group of volunteers, you can contact the Volunteer Coordinator, and we can arrange to come to your location for an in-person group orientation.
Feature Box Title
Adopt-a-Day and your group will make a difference. You are welcome to drop by our construction site on any work day, but for a more fulfilling experience, let us create a special work day for your group.For a modest donation, your group will enjoy a fun filled morning designed especially for your group. You will build with skilled Habitat instructors, while learning about our program, the families we work with and the rules of the road. All the while you will experience the opportunity of giving back to your community.Time: 8:30 – 12:30, group sizes 10-20, No skills necessary.
Feature Box Title
$20 per person: Exclusivity, snacks and a t-shirt!
$500 per team: Exclusivity, snacks, t-shirt, press release and a group photo!
$1,000 per team: Exclusivity, snacks, t-shirt, press release, group photo and year long donor acknowledgement on our website!
For more information, or to reserve a spot for your group, contact our office at 386-428-5010
Feature Box Title
Most people think of swinging a hammer when they think about volunteering for Habitat. Due to the tremendous amount of planning and management required to build just one home, we have a constant need for committee members and volunteers to help with various other tasks. Many of our younger volunteers (under the age of 16) and families who'd like to volunteer together opt to help out here… You don't need to be an expert in any of these fields to help out! There are many tasks that require only a willingness to learn and work with others.
Feature Box Title
Members for Committees — We have many committees which often need assistance or new committee members. Please visit our Committees page for more information about each of our committees
Feature Box Title
Workshop Leaders — Also needed are volunteers with extensive knowledge in plumbing, electrical, heating/venting, etc. that would be willing to teach staff and perhaps conduct monthly workshops.Media, Newsletter, Press — For anyone interested in writing for the newsletter, issuing press releases, making contact with local media, etc. No experience necessary – just enthusiasm! Contact the Volunteer Coordinator if you're a candidate.
Feature Box Title
Home Improvement Barn store volunteers — The Home Improvement barn is looking for volunteers to help in the store. Assist customers with merchandise selection, receive and display merchandise, cashier and cleanup. The ability to lift 50 lbs. is desired. Customer service and home improvement knowledge desirable.Thrift Shop — Retail outlet storeThrift Shop in-store volunteers — The Thrift Shop is always looking for volunteers to work in the store. Check the Thrift Shop page on this site for more information
Volunteer to Help Your Community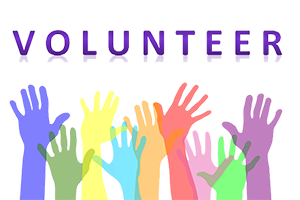 Call us to find out how you can become a volunteer — (386) 878-4591
Habitat for Humanity Forms