The Booth family were welcomed into the Habitat program in December, 2017. Parents Anthony and Monica Booth have four children, Evelyn aged 1, Anthony Jr,  6 months, Brayden, 7 and Aniayah, 5.
The family presently reside in New Smyrna housing, and are ready to take the next step into home ownership. They look forward to becoming homeowners with space and bedrooms enough for the children and a safe place for them to play outside.
Anthony works full time at The Olive Garden in Port Orange, and Monica is a student at the International Beauty School, as well as having her hands full with their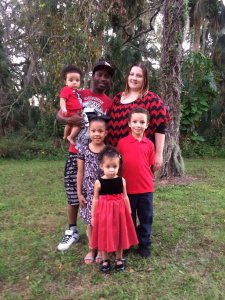 young children.
Coralie G.