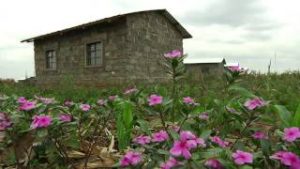 SEV Habitat recently received the $500,000 Lifetime Tithe award for its donations to  third world countries.
Over the years, we have funded home builds in Guatemala, S. Argentina, Kenya and Ethiopia. These are some of the highest priority countries in the world, needing assistance not only with housing, but also with fresh water systems, sanitation and hygiene. We prioritize funding housing assistance for the most vulnerable, including  displaced people, including thousands of orphans and ethnic groups facing persecution.
Our goal has been to fund a home in one of these countries every time we complete a home here in our community. We intend to keep to this goal, and increase our tithe to those who have so little, as our affiliate continues to grow.
The cost of a home in Kenya and Ethiopia is about $5,000. This simple structure has a solid floor and secure roof, often with communal kitchen, a clean water supply and latrines. Many families in these countries live in a crowded, one- room, leaky soddy, where illnesses easily spread, and there is no running water or any kind of sanitation. Water borne diseases are common, resulting in children with physical defects, and a high infant mortality rate.
SEV Habitat has won the Top Tither award for the intermediate range of affiliates since 2017.
We are proud to be awarded for the $500K Malachi 3:10 Lifetime Tithe award this year.
Help us in our mission to eliminate poverty housing, in our community and around the world.
  Shop at our Re-Store, donate, volunteer, advocate for Habitat for Humanity!
KENYA   Slum area                                                        Habitat homes
GUATEMALA:   Habitat home                             Family in 1 room tin shack
ETHIOPIA   1. Rural village with nothing but a dirty pond for water.
2. Building a Habitat village with brick homes, outhouses, and clean water tanks.
1. Clean water for washing and drinking provided to an elementary school in Addis  Ababa.

2. Habitat house under construction .
        Everyone needs a decent place to call home!
C.G.