Ashley Melancon and Ben Dannemiller                                                  Ben assists customers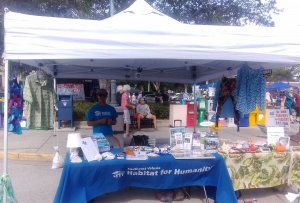 On Sat. 18th January, 2020, SEV Habitat once again had an information stall at the Canal Street Home and Business Expo in New Smyrna Beach . This Expo was busy with visitors from the minute it opened at 9am until it closed at 3pm. The warm, sunny day  was perfect for strolling and enjoying the many excellent exhibits. The street was completely full of colorful booths decorated Caribbean style, and there was so much to see and do, and lots of choices for eating . This was the best expo yet, and our booth was  crowded much of the time.
From these events, we often meet local residents who might wish to enlist in the Habitat home ownership program. We also have many people interested in joining us as volunteers, some bringing groups for a day of Team  Building. Our table of Re-Store samples also attracts people to shop or donate at our store which is such a great service to the community, and raises funds for us to build and repair homes in the NSB , Edgewater and Oak Hill. communities.
Future home owners, Ashley Melancon and Ben Dannemiller, worked very hard at the event the whole day, and were perfect ambassadors to provide information about the Habitat program. They were joined by Volunteer & Outreach  Manager, Coralie Gilson, and we are grateful to volunteers Jack Travis and Ralph Bower who set up and broke down the event.
Thanks also to Mark Steighner at Keys2The City for photographing our booth and including it in the Expo portfolio  at Keys2EventPhotos.com.
C.G.