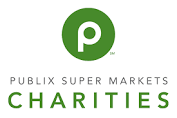 Publix Charities has once again responded to our call for help, by donating a $10,000 unrestricted gift to SEVHFH. Mr. George Jenkins, Founder of Publix, wanted to improve life in the communities where he operated. Today, Publix Charities carries out this goal through the work of its foundation.
Over the last 16 years, Publix has donated over $267,000 to support our building program. In addition, Publix associates have worked alongside the future home owners as they build their houses. In 2015, Publix supported the first home built in Pinehurst subdivision, Edgewater, contributing $65,000, and by bringing teams of Publix volunteers from all over the area to build. They also provided groceries at the time of the home dedication.
Mr. Jenkins dream lives on in the work of its foundation, with the financial and leadership support of Publix Super Markets Charities and others.
We at SEV Habitat, along with our partner families, are forever grateful.
Presently, SEV Habitat is beginning the last four houses in the 21 home subdivision. Publix Charities donations have contributed to these homes, and the $10,000 just received in December, 2019, will assist in purchasing building materials for these final houses.
Many thanks to you, Publix. Our subdivision has turned out really beautiful, and all the families living there are thriving.
C.G.