A heartfelt thank you to all who turned out to eat at the McKenna's fundraiser on 4th Nov, in a torrential downpour that lasted the whole evening and included lots of lightning.
Due to the weather, there was not the usual turnout, but we still made the best of the night, with an excellent raffle, which was a Fall basket created by volunteer Niki Ellinor, and a great bake sale that sold out.
Volunteers Hope Christensen ( the best baker of Biscotti on the planet), and Patty Cogswell, worked alongside partner families Ashley Melancon and her 2 children, Tristam and Kaleb, who did a great job of selling cakes round the tables. Ben Dannemiller also worked the evening at the door, and helped with the raffle.
We thank McKenna's for allowing us these bi- annual fundraisers, helping us  to build homes, and for sponsoring a home over several years.
Please support SEV Habitat by attending next time in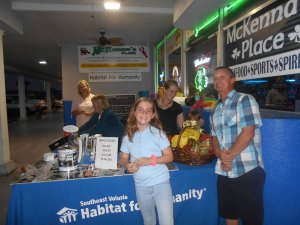 Spring 2020.Date TBA