On the evening of 27th August, a crowd gathered at 208 Chestnut St, NSB, to celebrate our 136th family housed.
Judy and Scott Maman will be the future owners of this beautiful 2 bedroom, 1 bath home with oversized yard, just perfect for their dog to roam.
It is a fully handicapped -accessible home, suitable for Scott who suffers from Muscular Dystrophy.
Reverend George Hand blessed the home, surrounded by staff, board members and the wonderful hands who built this home- our dedicated, hard- working volunteers.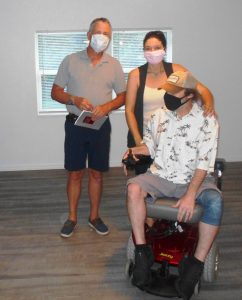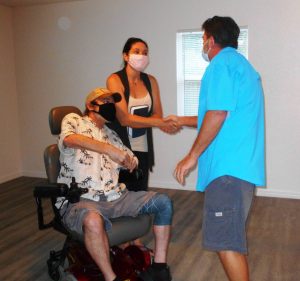 We wish the Mamans great joy in their new home.
Pictures: Above right: Reverend  George Hand offers prayers with Scott and Judy Maman.
Below left: Ray Allnutt,Construction Manager hands over the keys to the house .
C.G.