On April 26th, a group of ladies spent their evening at Lowe's of Port Orange, attending a special pre- Women Build workshop on power tools for beginners and different paint techniques. The group included Habitat staff, future Habitat homeowner moms and several Habitat volunteers.
The Lowe's staff were really great teachers, and very kind and helpful, as each lady tried out the different power tools.  They also provided healthy refreshments for the class.  This was a great opportunity to learn, feel comfortable with power tools, and even do a little shopping.
The class is offered annually at Lowe's of Port Orange, just before National Women Build week. Lowe's are the sponsors of this major Habitat event, and each year supply shirts, nail aprons, and manpower, along with a substantial grant to qualifying affiliates. Their support of Habitat, and of eliminating poverty housing and creating affordable homes has always been great and generous, and they continue to partner with us at SEV Habitat, also sending teams to build with us.
Many thanks to Becki Dishon from Lowe's plumbing department who coordinates and teaches the workshop,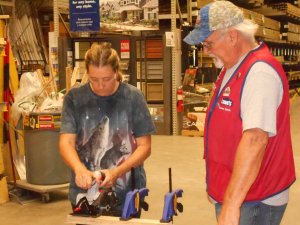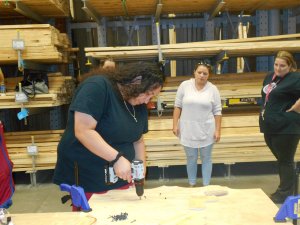 Habitat vol. Cora Baker learns from Wayne Grant                         Iesha Crum drives in screws like a pro.
Lowe's intructors Wayne and Homer                       Habitat vol. Bridgit Higginbotham tries out each tool.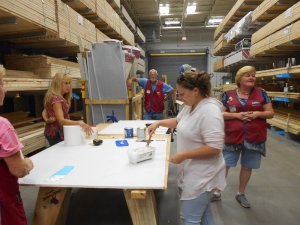 Next we learn paint techniques with help of Lowe's expert Becki Dishon, (right).
and enlists a large group of female employees during Women Build. We also thank Lowe's instructors Wayne Grant and Homer who helped the ladies experience each power tool.
C.G.