On 12th of December, 2017, volunteer Bob Mc Manus was awarded for his 10 years of dedicated service to Habitat. His work was celebrated at his favorite place, the construction site, presently at Pinehurst subdivision, among his fellow volunteers and staff of SEV Habitat. Bob served on the board and has always been very involved with the affiliate. He is also a regular builder, year round. In addition to all of this work, he also helps organize the annual golf tournament, serving on the committee and tirelessly working to get donations and players for the event, as well as managing all the design and implementation of the sponsors'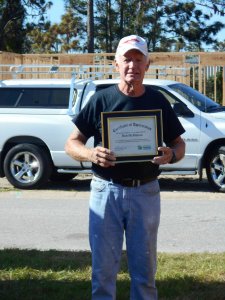 signage. Largely to his work , the golf tournament has become a very organized and successful event.
We thank Bob so much for his continued involvement with Habitat, and hope he will be with us for many years to come.
Coralie G.