In May, 2019, Coralie joined a team of  Habitat leaders from worldwide locations, to visit and work with HFH Ethiopia, in Addis Ababa and surrounding area.   The main goal of the visit was for us to see the extensive work that Habitat has done in this country, through the help of our tithe. SE Volusia Habitat has been sending funds through Tithe since 2017, as Ethiopia is on the list of the top priority countries in need of assistance.  Habitat is building new homes, & repairing and reconstructing homes made from their main building material, Chica, which is fermented straw and mud. They are building pathways in housing areas so that people don't have to walk in dirt and muck, and building communal toilets.  Most important of all, Habitat is bringing clean water to the villages, through tanks, and pipes, wherever there is a water supply. Many people have only water holes to drink from, which dry up quickly after the brief annual rains, & are often contaminated and filthy.
Ethiopia is struggling to rise up from poverty, battling with persistent drought, many diseases, lack of work,  lack of good diet and medicine, along with years of political strife, resulting in currently two million displaced people.  Families live in overcrowded, unsafe conditions, and the city of Addis Ababa is mostly slum, with a massive population, which ( though not able to be accurately counted) , is considered to be over 5 million.
Many people have no access to clean water, and often live in an unlit one- room home with a dirt floor and no  windows. The home does not have a kitchen or restroom, and there is little privacy and not much space. Worst of all,  they have no facilities to get rid of solid waste, and this,along with other garbage, is a huge problem, as it gathers in the fields, along streets and roadsides, in ditches and in the ponds and streams.
Habitat Ethiopia is striving to provide improved sanitation and hygiene, offering extensive education classes, and building communal toilets in schools, and all over the city. They are building irrigation systems and sewer lines in the sub city areas, and working extremely hard to get people out of the worst slums and into safe housing with a solid floor and roof, and walls that do not wash away in the rainy season.
Our tithe to Ethiopia is a vital part of the work we are doing here at SEV Habitat. It expands our mission worldwide, to parts of the world that do have any of the things that we daily take for granted.
I have never seen such gratitude for the simple homes Habitat has provided for these people. We visited many Habitat buildings & many villages, and everywhere, they cheered our arrival, showered us with gifts and coffee
( cont.d  below pics)
1. Chica home. Habitat covers the walls  with a concrete shell, and builds a solid floor and roof.
2. Children at Fitche village. 15 0ut of 24 had growth and other physical abnormalities.
Landcape                                                                                                Building concrete block homes at Gulale slum upgrade project.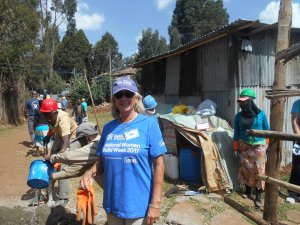 Building at Gulale
Slum area in Addis sub city.                                                                     Habitat built irrigation system to build gardens along the sub city streets.
Debra Birhan- Habitat houses                                             Habitat home under construction in Debra Birhan
Yard of house # 2000, in Debra Birhan, with clean water pipes built by Habitat
1.Construction Mgr Alex outside the communal toilet  built on top of mtn  overlooking Addis Ababa. There is a small village which had no facilities whatsoever, including water, which they travel down the mountain to find. Note Alex's  SEV Habitat cap which he wore all week.
2. Water hole at Fitche. This was their source of water until Habitat recently built a well.
1.Masarat school , enjoying clean water for drinking and washing. The students are learning about the importance of sanitation, and their T shirts displayed the words "Water is our future"  in English and Ahmraic.
2. Groups of Baboons enjoying themselves.
( Contd. from above) ceremonies, and proudly, with joyful tears, took our hands, and led us inside to tour their homes.
To all our volunteers and staff, and to all who donate to us at the re store and at our fundraisers, builds, and events… Please continue . It is your donations that expand our efforts to those that need it most, making a difference to people's lives, bringing them safety and decency, through shelter.
Amesaginalehu  ( thank you) from Ethiopia Habitat home owners.
Coralie G.