Members of the De La Salle Habitat for Humanity Club of Alamo, California, traveled a long distance to work with  SE Habitat for a week, from 10-17 June. The team of thirteen, which consisted of team leader Chuck Peterson, who is very experienced in leading Global Village teams worldwide, joined nine young men and three of their dads to help us build homes in Pinehurst subdivision. After work, they enjoyed  cultural and ecological activities, including the Space Center, a boat trip along Canaveral Seashore, and kayaking at Cracker Creek. They also sampled several local restaurants and finished their week with an afternoon at Universal Studios.
The group resided in the dorm, and endured each morning at the construction site in great heat and humidity. They also got to experience some of Florida's famous summer thunder storms.
The group performed a variety of tasks, including painting, clearing sites, preparing for landscaping, putting up  barrier fence, hurricane straps , and an afternoon sorting clothes at the Re-Store. They helped us get closer to finishing three homes, and worked on two new frames, as well as preparing new sites in the subdivision.
Each young man raised his own funds for the trip, and also  $550 each to donate to Habitat for building materials.
We are so grateful to this group and to Chuck for organizing the trip, and bringing us great workers during the quiet season. We accomplished much in five days, and they got to meet, work alongside,  and talk to the families presently in the Habitat program, which gave purpose to their work.
Global Village is an international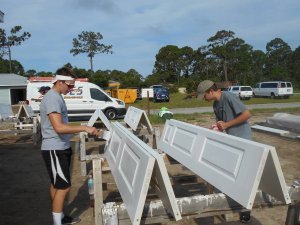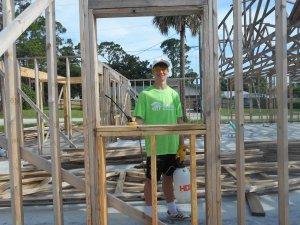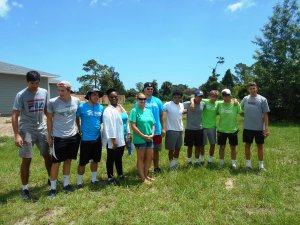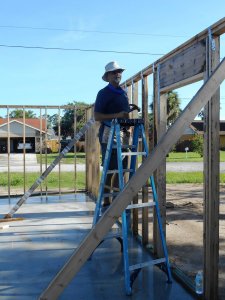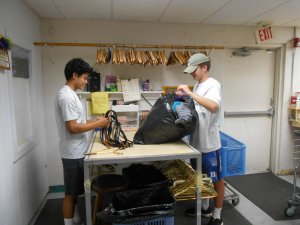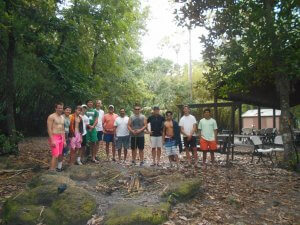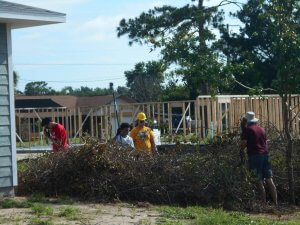 Habitat program where people can join a group build in different parts of the world, generally for one week, including cultural activities, and the chance to meet families from other countries who need safe, decent and affordable homes.
Thank you for all your help, men of De La Salle HFH Club!
Team leader Chuck Peterson on ladder.
The group with Habitat families Nicole Farmer and Elvira Rahming, center.
Featured image at top: the group aboard Turtle Mound River Tours boat with Coralie, center, and dads in back row.