On the evening of 30th October, two more families were overjoyed to receive beautiful new homes on Canal Rd, Edgewater, in our Pinehurst Subdivision. Joseph and Maria Milam , and their children Cheyenne, Amelia and Melody, received their keys and bible, and are home at last at 132 Canal Rd.! Ellen and Anthony Lamela and their 3 grandchildren will be living at 128 Canal Rd. We have never seen Anthony smile so much!
A large crowd of friends and family,  and volunteers who worked so hard to get these houses funded and built, along with Habitat staff and board members enjoyed an outdoor ceremony.
Good luck and happiness in all you do, Lamela and Milam families!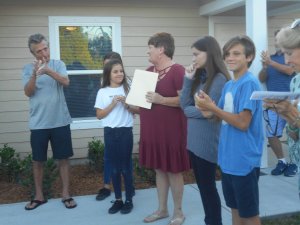 Lamela family above, and Milam family below with Director Rosemary  Walker.