On Thursday September 3rd, 2020, a crowd gathered to celebrate the dedication of 104 Canal Rd, Edgewater, to the Dannemiller family. This is the 19th house completed in our Pinehurst subdivision of 21 homes. Ben Dannemiller and his children Briella and Landon were very happy indeed to receive their keys and bible and be able to move into their new home. The dedication blessing and prayers were given by their Pastor, Larry Husebo, of Christ Community Church.
This is the 137th family housed by SEV Habitat for Humanity and is generously sponsored by Top Build.
We wish the Dannemiller family  a life of contentment and joy in their new home.
Ben, Briella and Landon
Left pic: Pastor Husebo, far left and Rosemary Walker, Executive Director, far right with family, staff and volunteers.     
Right pic: Ray Allnutt, Construction Mgr., gives Ben the keys to his new home.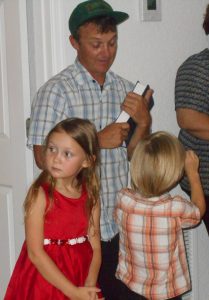 Ben receives his bible and says a few words of thanks to the volunteers and staff.
C.G.